Heat Up the Holidays
Warm up on a cold winter's night with this deliciously healthy hot Shaklee drink, destined to become everyone's cup of tea!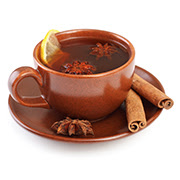 Apple Cinnamon Spice Energy Tea
1 stick Shaklee 180™ Green Matcha Energizing Tea
6 ounces water
2 tablespoon unsweetened apple juice
1 teaspoon orange juice
Dash cinnamon
Directions:
Heat water in small saucepan and add stick of Green Matcha Energizing Tea. Mix well. Add apple juice, orange juice, and cinnamon. Stir, sip, and enjoy! Makes one serving.
Each serving contains approximately 22 calories, 0 grams protein, 4 grams carbohydrate, 0 grams fat, and 0 grams fibre.